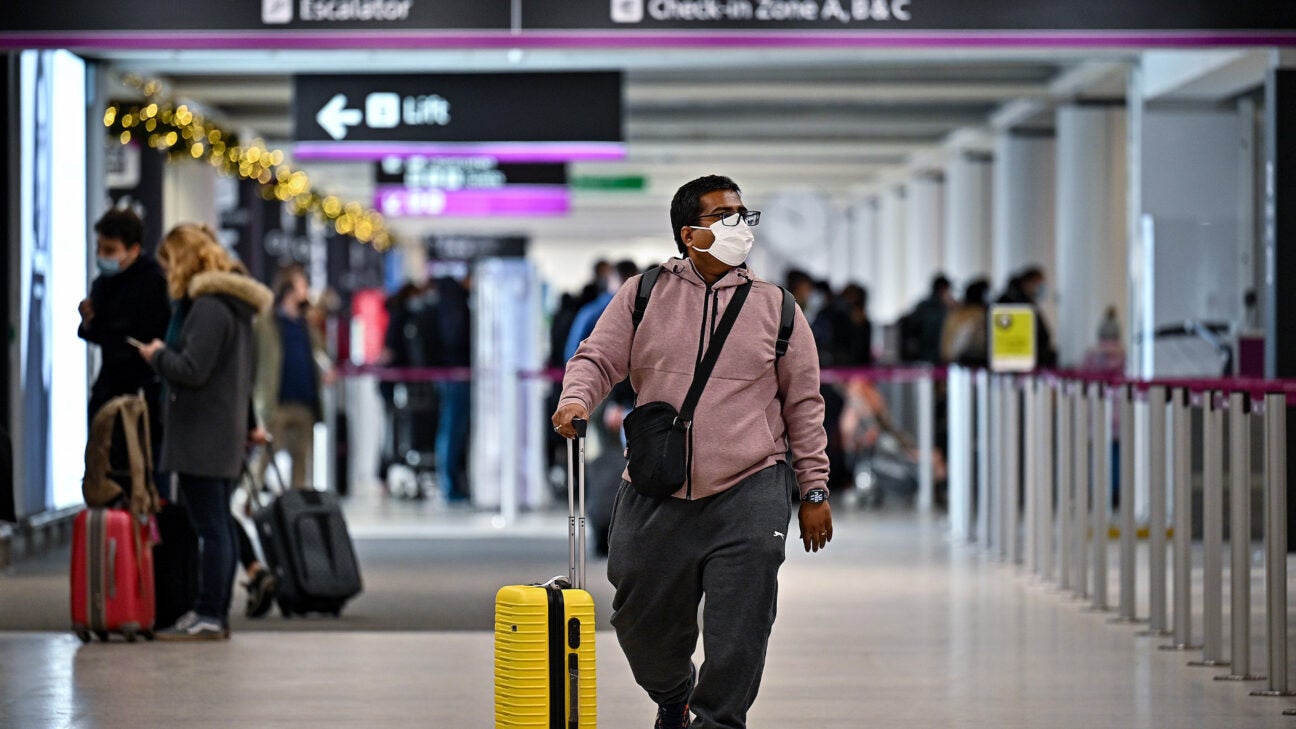 New COVID-19 cases increased sharply this past week, with the daily average now close to 150,000 cases in the United States.
Deaths are still averaging more than 1,000 per day.
The daily U.S. vaccination rate is averaging about 1.6 million and experts say elected and community leaders still need to continue promoting the benefits of vaccination.
Editor's note: This story is updated regularly as new statistics are released.
The number of new COVID-19 cases, hospitalizations, and deaths in the United States leveled off this past week, although concerns remain over what the winter months and the Omicron variant might bring.
According to figures from the Centers for Disease Control and Prevention (CDC), the average number of new COVID-19 cases are now sitting at more than 149,000 a day, about 25,000 more than late last week. The figures include the 288,000 new cases reported on Dec. 20.
The total number of new COVID-19 cases for the week that ended Dec. 12 was listed at 925,982, an increase of 9 percent from the previous week.
Deaths attributed to COVID-19 for the same time period were listed at 9,115, virtually the same as the previous week.
Hospitalizations are sitting at about 64,000, around 1,000 more than late last week. Ohio has the most, with more than 4,600 people hospitalized for COVID-19. Pennsylvania is right behind with more than 4,500 hospitalizations.
Meanwhile, the 7-day average of vaccine doses administered in the United States is about 1.6 million, around the same as late last week.
Overall, the United States has reported 51 million COVID-19 cases since the pandemic began. Deaths related to COVID-19 in the United States have now surpassed 809,000.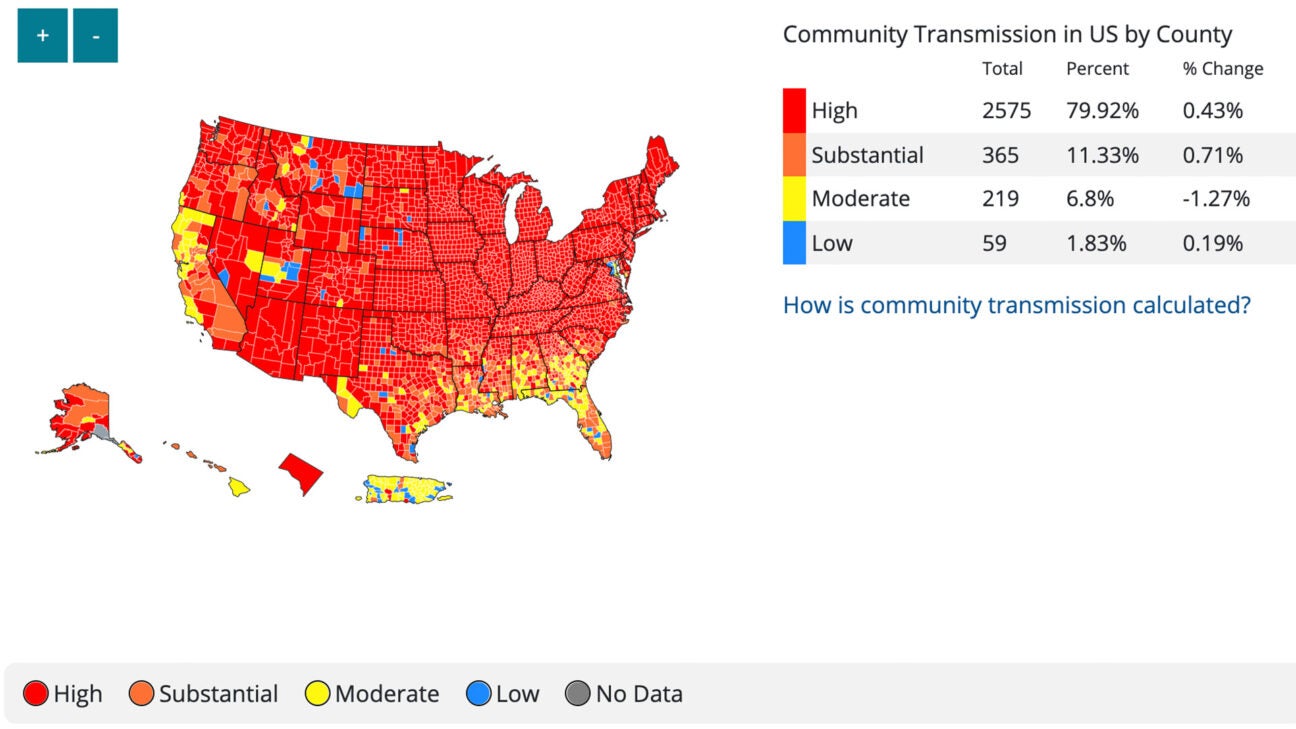 Experts say that the pandemic isn't behind us yet, and they're concerned about potential surges from Thanksgiving travel, colder weather, and the Omicron variant that was first identified in late November.
"I definitely think we could see more increases as cold weather hits," Dr. Jamila Taylor, director of healthcare reform and a senior fellow at The Century Foundation, told Healthline.
"Another factor is holiday travel. We are in the thick of it. Omicron is spreading and Delta remains the dominant, deadlier variant. More Americans are traveling, domestically and internationally, so we are not yet out of the woods. Not by a long shot.
"The best we can all do is continue to mask up, practice good hygiene, and be smart about distancing ourselves. For those who have yet to get vaccinated or boosted, it is of urgent importance that they do so," Taylor said.
"The COVID picture varies across the country," added Dr. William Schaffner, an infectious disease specialist from Vanderbilt University in Tennessee.
"In some locations, the increase in case numbers has leveled off. In other locations, cases continue to rise. Well over 90 percent of new infections continue to be caused by the Delta variant. Although Omicron is being detected in a growing number of states, it still is responsible for a small minority of cases.
"There is no doubt that Omicron is highly contagious, so its presence is likely to become more prominent going into the holidays. COVID has thrown us so many curves that it has become perilous to predict its behavior.
"That said, all the holiday travel, family get-togethers, as well as colder weather driving us indoors are going to provide environments conducive to the spread of both Delta and Omicron. Celebrate with care," Schaffner told Healthline.
When might we see the end of the pandemic, and what might life look like, at least in the United States?
"It is hard to even envision this thing being completely eliminated," Taylor said. "Even if the virus itself were to be eliminated, the effects will be seen over the long term, for sure. The economic, mental, and physical health effects of COVID-19 have changed the lives of millions of people."
"The COVID virus will not disappear," Schaffner added. "We will have to learn how to cope with it as we do with influenza. We may need periodic booster doses of COVID vaccine, but that interval has yet to be determined."
State numbers
There were 24 states that reported an increase in new COVID-19 cases for the week that ended Dec. 19. There were 20 states the previous week.
Hawaii had the largest jump, with a 276 percent increase to 3,517 cases. New York was next among states with a 60 percent hike to 113,887 cases.
Louisiana reported a 50 percent increase to 4,733 cases, while Alabama saw a 47 percent jump to 5,564 cases and New Jersey experienced a 37 percent hike to 42,274 cases.
In overall numbers, the CDC reports that New York had the most new cases in the past 7 days with 133,399 new cases.
Illinois was second with 71,256 new cases this past week. Ohio reported 64,281 cases the past week with Florida next at 60,239 cases, and Pennsylvania with 51,377 cases in the past 7 days.
The CDC reports that Rhode Island is the leader per capita, with 842 cases per 100,000 residents over the past 7 days.
New Hampshire is second with 630 cases per 100,000 residents, while Vermont registered 575 cases per 100,000 residents.
Illinois is fourth with 562 cases per 100,000 people. Massachusetts is next with 557 cases per 100,000 residents.
New York is probably among the top 5 states in per capita ranking, but it's difficult to determine their overall rate because New York City's numbers are compiled separately from the rest of the state. The city now has a rate of 847 new cases per 100,000 people while the rest of the state has 563 cases per 100,000.
Montana is now the only state with fewer than 100 cases per 100,000 people at 95 cases per 100,000 residents.
A look at the map shows that most of the states with the highest per capita rates are now experiencing cold weather.
Most of the states with the lowest per capita rates are along the southern edge of the country, where it's still warm.
Experts told Healthline in October that they were concerned COVID-19 cases would heat up when colder weather returned.
Whatever the reason, here's a look at the states with the highest per capita caseload and their percentage of fully vaccinated people:
| | | |
| --- | --- | --- |
| State | Daily cases per 100,000 residents | Full vaccination rate |
| Rhode Island | 842 | 76% |
| New Hampshire | 630 | 66% |
| Vermont | 575 | 77% |
| Illinois | 562 | 64% |
| Massachusetts | 557 | 74% |
| | Source: COVID ActNow | |
There were 25 states that reported an increase in deaths related to COVID-19 for the week that ended Dec. 19. There were 29 the previous week.
Alaska had the highest jump, with an increase of 1,900 percent to 60 deaths.
Maine was second with a 138 percent hike to 74 deaths. Rhode Island registered a 118 percent increase with 35 deaths, while New Mexico saw a 61 percent increase to 105 deaths.
Pennsylvania recorded the most COVID-19 deaths over the past 7 days with 800.
Ohio was next with 657 deaths, followed by California with 482 deaths, Arizona with 479 deaths, and New York with 436 deaths in the past 7 days.
Maine and Arizona had the highest death rate per capita, with 6.6 deaths per 100,000 residents. This was followed by New Mexico with nearly 6.2 deaths per 100,000 people and Indiana with 6 deaths per capita.
Oklahoma had the lowest per capita death rate after reporting 0 deaths the past 7 days. Florida is next a rate of 0.1 deaths per 100,000 people. Alabama recorded a rate of 0.3 while Alaska had a 0.4 rate.
Where we are with vaccines
The CDC reports there have been more than 497 million COVID-19 vaccine doses administered across the United States.
More than 241 million people have received at least one dose, and more than 204 million people are fully vaccinated.
The numbers now include the more than 62 million people who have received COVID-19 boosters since they were made available.
That means that more than 72 percent of the total U.S. population has received at least one dose. More than 84 percent of the country's adult population has received at least one dose. About 95 percent of people ages 65 and older have received at least one dose.
California has administered the most doses, with more than 64 million. That's followed by Texas with more than 39 million.
New York have both administered more than 33 million doses with Florida close behind with nearly 33 million doses. Pennsylvania and Illinois have administered more than 19 million doses each.
Only one of those states, however, is in the top five for the percentage of the population that's received at least one dose:
States with the highest percentage of vaccination (total population)
1. Massachusetts: 89%
2. Vermont: 88%
3. Connecticut: 87%
4. Rhode Island: 87%
5. Pennsylvania: 85%
Source: COVID Act Now
The Food and Drug Administration (FDA) granted an emergency use authorization in late October that allowed children ages 5 to 11 to receive the Pfizer-BioNTech COVID-19 vaccine.
So far, more than 5 million children in that age group have received at least one dose out of the 28 million children who are eligible for the shots.
Taylor and Schaffner both said the vaccination of children is crucial.
"I think it will have a major impact," Taylor said. "Cases among children have been rising, and many parents remain fearful about transmission among their children. Back to school has been particularly stressful because of this."
"Ensuring a safe and effective vaccine for this age group is also critical in increasing our overall number of vaccinated people in the U.S.," she said.
"It is very important for children 5 to 11 years old to be vaccinated both to protect themselves and to protect their communities," Schaffner said. "We all know that children are less severely affected by COVID than are adults, particularly older adults. However, that does not mean that children remain unscathed."
"Young children can be transmitters," he added, "spreading the disease to older persons who can become seriously ill. All these are reasons for young children to be vaccinated. In addition, vaccinating youngsters can help make day care and schools safer for all."
Schaffner said the country needs to continue to encourage people to get vaccinated.
"One of the things that we do know about COVID is that vaccination provides strong protection against the most severe manifestations of disease," he said.
"The appearance of the Delta variant has taught us that, although the vaccines do reduce the risk of mild infection and transmission, that protection is not complete. As a result, we're now more cautious in our hopes for herd immunity," he added.
"For sure, high community levels of vaccination will protect individuals from hospitalization, and there will be less pressure on our healthcare system, but the COVID virus will continue to smolder, still seeking out the unvaccinated. We are in this for the long haul, and there still are many, too many, unvaccinated adults," Schaffner said.