Health supplements fitness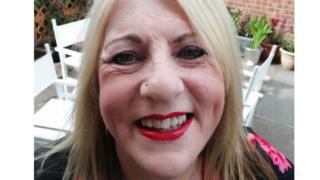 Arthritis sufferers run the risk of being overlooked in Northern Ireland as the health service starts to put in place post-pandemic recovery plans, a charity has said.
Versus Arthritis is campaigning to ensure that more than half a million people with muscular skeletal pain are not forgotten.
Elizabeth McLucas is among them. She has rheumatoid arthritis.
She has been on a waiting list for a hip replacement for more than a year.
"I had an X-ray before lockdown which said the condition had deteriorated considerably but I have no idea when I'll get surgery or when anything is going to happen," she told BBC News NI's Good Morning Ulster.
Mrs McLucas, from County Down, said that even putting a foot on the floor was extremely painful.
"I'm in sheer agony with my hip. It's getting so bad that my doctor had to write to the hospital to warn them of my pain levels, although I've heard nothing from the hospital since.
"Last time I spoke to a doctor at the hospital he said they haven't resumed doing any surgery yet because of Covid-19, so all they can do is increase my pain killers."
She added: "I'm like a zombie with them, though. I became very, very depressed, but it was all they could do to ease the pain.
"Thankfully, I get a lot of support from my husband who is a carer for the NHS, but it means he never gets away from his work."
Health supplements fitness 'Worst waiting times'
Mrs McLucas said the doctors had done their best but she needs surgery urgently so that she can get on with her life.
"Probably arthritis isn't seen as a major concern in the way that cancer is. The government needs to get waiting lists sorted out."
Sara Graham, Northern Ireland director of Versus Arthritis told Good Morning Ulster that Mrs McLucas' situation was "far too common".
More than 487,000 people in Northern Ireland live with a musculoskeletal condition such as rheumatoid arthritis, osteoarthritis and back pain, she said.
"Even before Covid-19, Northern Ireland had by far the worst waiting times of any part of the UK, with people waiting years to access vital health services including physiotherapy, rheumatology and crucial joint replacement surgery," said Ms Graham.
"Over half will be waiting a year to get their first appointment to see a consultant for an assessment to go onto another waiting list and they could be waiting for years. Those are the stories we hear consistently."
Versus Arthritis has launched a campaign warning the government that if people continue to be unable to access appropriate health care then thousands are at risk of significant health deterioration and the health service will pay a higher price in the long term.
Ms Graham said: "The health service has just about survived Covid-19 so far, but at the expense of services that many relied upon to sustain their quality of life.
"The Northern Ireland government must take urgent steps to ensure people with arthritis are not forgotten or ignored. We can't go back to 'normal' – we must demand better.
 "It's imperative that recovery plans include arthritis treatments, including joint replacement surgery, so this crisis does not accelerate further. "
Addressing waiting lists and restarting planned joint replacement surgery should be a priority, she said.
The charity has launched a campaign called "Impossible to Ignore". They are asking people to sign a petition to ask that arthritis be taken more seriously.
"People are living with really debilitating, chronic pain . Nearly half a million people in Northern Ireland live with some kind of muscular skeletal condition," Ms Graham said.
"Approximately half of those people were told to shield and had appointments and treatments cancelled.
"They have been telling us that their physical and mental health has deteriorated as a result. We are asking government and health services to prioritise these people and to prioritise reducing these waiting lists."